Seminars and Workshops
BUGSS hosts an ever-changing array of seminars, Open Mic nights, open houses, and workshops. Our Evenbrite page has the most current listing of seminars, workshops, and courses. You can also find these activities on the calendar below and use the calendar  links to sign up.
Understanding Parkinson's Through the Lens of Neuroscience
With over ten million people worldwide estimated to be suffering from Parkinson's disease (PD), sadly, all of us know someone whose life has been touched by PD. Join us to learn what neuroscientists know and what they don't know (but are tirelessly working to understand) about the causes and treatment options for PD.
Is it primarily a genetic disease or does the environment play a role? What brain areas are affected? What are the new therapies for PD on the horizon? How do researchers address these questions in a laboratory?
This class started with a telescopic view of the brain and zoomed in to answer these questions with a range of interactive activities.
Making Sense of CBD
The number of cannabidiol (CBD) products on store shelves has exploded, with an array of supplements, oils, creams, and gummies now being available. Is this the latest snake oil or do CBD products really have tremendous healing potential? We'll hear from experts on all sides of the issue as they give us the facts on what we can be hopeful about and what is just hype.
Featuring:
Dr. Kathleen Kennedy, RxRemedies, a company that sells "natural, plant-based products backed by medicinal science"
Dr. Leah Sera, Program Director for the Graduate Program in Medical Cannabis Science & Therapeutics at the University of Maryland School of Pharmacy
Dr. Michael Lewis, M.D., MPH, MBA, US Army Colonel (Ret), founder of the Brain Health Education and Research Institute
Do Asteroids Really Hit the Earth?
What are asteroids? Do they hit the Earth? Has anyone ever been hit by one? Dr. Sethanne Howard is a retired astronomer and the former Chief of the Nautical Almanac Office at the US Naval Observatory. Dr. Howard answered those and other questions in her talk "Asteroids Hitting the Earth".
Vaccine Development and Clinical Trials
Why does it take so long to develop vaccines?
The COVID-19 pandemic has raised questions about the logistics in creating a new vaccine. Some may be frustrated with the slow pace of research and approval. In this seminar we learned about the process of vaccine development, whether we can speed up the process and get vaccines out quicker, and if there are corners that we can cut in the time of pandemic. Thanks to our fantastic panel experts:
Bill Hearl, CEO, Immunomic Therapeutics
B. Kim Lee Sim , President and Chief Scientific Officer, Protein Potential and Executive VP, Sanaria Inc.
Sharon Tennant, Associate Professor, Center for Vaccine Development and Global Health, University of Maryland School of Medicine
Diversifying Genomes Seminar
Thanks to volunteer Rachel Creager for her writeup of our recent seminar!
On Friday, March 1, Rachel Sherman, a Ph.D. student at the Johns Hopkins University Center for Computational Biology, presented her work titled Diversifying Genomics: Identifying large variations in genomes of African ancestry individuals. Rachel discussed the history of the Human Genome Project and the race to produce the first full sequence of a human's DNA. Because two organizations were racing to get publish the full genome before their competition, ~70% of the reference genome produced by the Human Genome Project is comprised of one individual.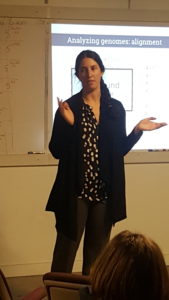 Though humans are thought to be ~99.9% similar, the differences at the genomic level are the most interesting and important part. Therefore, when a new genomic sequence has been collected, the first step of the analysis process is to compare the DNA sequence to the reference genome. However, there are large leftover sequences that do not align to the reference genome and are thus thrown out. Rachel looked at those leftover sequences from a cohort of 900 individuals of African ancestry to see if any information could be collected from that "trash" data. After extensive analysis to ensure that those trash samples contained true human DNA, Rachel found over 125,000 distinct DNA sequences that were at least 1,000 base pairs in length. That is over 300 million base pairs or 10% of the current reference genome! On average, each individual in the cohort had 859 of these distinct long read insertions in their genome. Rachel concluded by asking if we are really ~99.9% similar with such long insertions that are just thrown out with the trash of genomic analysis. This mind blowing conclusion led to a lot of excellent conversation among the attendees. Rachel's lab is currently working on generating more reference genomes, to provide a better infrastructure for analysis of novel next generation sequencing data.
Written by Rachel Creager 3/9/19
Fighting the Flu Panel Discussion
On November 9th, we held a panel discussion on influenza surveillance, outbreak monitoring, and vaccine development? Thanks to our volunteeer, Erin McClure-Carroll, who is sharing her writeup of the event and all that she learned. Check out Erin on LinkedIn, and say thanks to a great science writer! https://www.linkedin.com/in/erin-e-mcclure-carroll-3528753b/
From Erin:
On November 9, 2018, BUGSS hosted an influenza panel discussion featuring scientists and clinicians from the Maryland Department of Health and Johns Hopkins University.
While the influenza panel coincided with the centennial of the deadly 1918 influenza pandemic (also known as the "Spanish flu"), seasonal influenza epidemics occur every year and kill on about 375,000 people annually. Influenza symptoms vary in severity and can include fatigue, runny nose, fever, and aches. Most people recover within a few weeks. However, certain groups of people are at an elevated risk for influenza complications. The very old and young, as well as people with some chronic health problems are more likely to exhibit severe symptoms and require hospitalization. Most healthy people don't die of seasonal influenza infections, but they miss work and school, costing society as a whole a lot of money.
The first two panelists were epidemiologists from the Maryland Department of Health (MDH). Brian Bachaus, MS, discussed the flu surveillance programs implemented by the MDH. They monitor influenza and influenza-like illness (ILI) reported at primary care physicians' offices and emergency departments. MDH also runs a program called the Maryland Resident Influenza Tracking Survey, where volunteers sign up to receive weekly emails prompting them to report ILI symptoms. You can sign up here to volunteer. Mr. Bachaus also described influenza testing at MDH. The state laboratories obtain, sequence, and culture influenza isolates. The results of these monitoring and testing activities are reported weekly during flu season. David Blythe, MD, focused on the role of the MDH in detecting and responding to novel influenza infections. He described a recent example the zoonotic transmission of a novel influenza virus from sick pigs at Maryland agricultural fairs to 40 people. Two children were hospitalized; however, everyone recovered from the infection. Through this case study, Dr. Blythe emphasized the need for a One Health approach; that is, that animal health impacts human health; and that collaborative, multidisciplinary responses are required to protect vulnerable populations from infectious diseases.
The third panelist was Katherine Fenstermacher, Ph.D., from Johns Hopkins Center of Excellence for Influenza Research and Surveillance (JH-CEIRS). JH-CEIRS has three hospital sites in Baltimore, Taiwan, and Zambia. First, Dr. Fenstermacher explained the drawbacks of traditional ILI screening. As you might expect, flu symptoms are non-specific, so without testing, it's impossible to know if someone is suffering from influenza or a completely different infection. They developed and implemented a screening protocol to streamline ILI screening in the emergency department and to capture patients with mild to severe influenza infections. Second, Dr. Fenstermacher explained the CEIRS research pipeline. The scientists obtain and sequence viral isolates from the JH-CEIRS hospitals. If an influenza isolate is particularly interesting, they produce the virus and test how it interacts with nasal epithelial cells in the lab. For example, the JH-CEIRS scientists can characterize the virulence of the isolate or determine how well the virus can be neutralized by antibodies.
The audience had many questions about how the biology of the influenza virus impacts surveillance, research, and vaccine production. Influenza is an RNA virus with eight segments of RNA that encode essential viral proteins. All eight pieces are required for the viral particle to be fully infectious. Influenza A and B are responsible for most of the human infections. Influenza A is categorized into several subtypes based on the structure of two key surface proteins, hemagglutinin (H) and neuraminidase (N). For example, the predominant influenza A strain that circulated in the Northern Hemisphere last year was H3N2, while the Spanish Flu and the 2009 swine flu outbreak were H1N1 strains. Because influenza A can infect many different animals, including humans, swine, and birds, new influenza A strains can be generated through a process called "reassortment." For example, if a pig is co-infected with a highly pathogenic pig-specific influenza A virus and a strain that can also infect humans, a highly pathogenic influenza virus that infects humans could result and cause a pandemic. Influenza A also mutates quickly, allowing it to evade the immune system of its host population. Influenza B is responsible for seasonal influenza infections, not global pandemics, and largely infects humans. Type A and B influenza viruses don't exchange genetic material with each other, although the mechanisms preventing reassortment between the two types are not well understood.
Influenza vaccines are created by growing the virus in embryonated chicken eggs. Unfortunately, scientists must decide which influenza subtypes to include in the vaccine well in advance of flu season because it takes several months to produce, test, and distribute enough vaccines to effectively mitigate the seasonal flu epidemic. Most vaccines administered consist of three or four inactivated virus strains (e.g. two influenza A strains and one influenza B strain), that stimulate the immune system to make antibodies against the antigens present in the dead virus. A small percentage of manufactured vaccines are live attenuated influenza vaccines (LAIVs), which consist of weakened influenza viruses that don't cause disease but still trigger an immune response. The final panelist, Kawsar Talaat, MD, performs clinical trials on LAIVs at Johns Hopkins Bayview. Her research goal is to develop LAIVs for flu pandemics. Unfortunately, LAIVs overall are generally not as effective as the inactivated vaccines. However, even though the primary antibody response induced by LAIVs is minimal, people are still protected to some extent by LAIVs (e.g. FluMist). Dr. Talaat showed that the LAIV she tested actually triggered a desirable cross-protective memory response, which is not typically induced by the conventional flu shot.
Influenza killed over 80,000 people in the United States during the last flu season. The easiest way to avoid getting the flu this winter is to get vaccinated. Not only are you less likely to get sick, you protect others who either can't get the vaccine or are at high risk for influenza complications.
Please see these resources on influenza for more information:
Written 11/16/18 by Erin McClure Carroll
Courses
We also offer numerous courses where the public can engage directly with hands-on biotechnology activities. Courses involve short lectures interspersed with hands-on lab experiments.
 Build-a-Gene: A course covering cutting-edge topics in gene manipulation.

No previous lab experience necessary-while the concepts are extraordinary, this course is appropriate for those with no lab experience. Learn how to build genes from scratch, how to change and mutate DNA, work with the revolutionary CRISPR technology that is taking the research world by storm! Class will be appropriate for adults, and advanced high school students
August 4th-25th, 2018 from 10 am -2 pm
For more information: Build-a-Gene
Food Forensics
You may be curious about the fish you purchase at your grocery store or local market. Is it really what they say it is? Test it for yourself in our lab and learn the process of DNA isolation, PCR, gel electrophoresis, and DNA barcoding and sequencing! Class will be appropriate for adults, and advanced high school students.  
September 22 and 29, 2018 from 10 am -2 pm
For more information: Food Forensics
Lab Skills Nights! – RNA detection with Real time PCR
To help work around busy schedules, two nights a month we will offer a hands-on learning experience of a specific technique.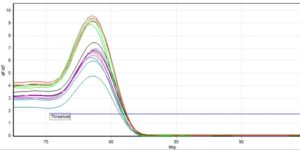 The month of October we will be teaching RNA detection by real-time PCR! Join us as we learn how to analyze gene expression. We'll take an RNA sample and perform reverse transcription to create a DNA copy and then amplify that DNA to precisely measure gene expression level.
October 18, 2018 at 7 PM
For more information: Real Time PCR 
To Start Up or Not to Start Up? First Step: Customer Discovery
Our final installment of our entrepreneur series in partnership with Harbor Launch of IMET!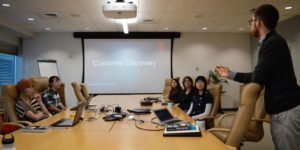 Tom Starr of Chesapeake Visions helps researchers, entrepreneurs, and investors with market research, customer discovery, commercialization planning, and Go-to-Market strategy. This will be an interactive workshop, led by Tom Starr, Founder & Principal at Chesapeake Visions, consisting of an informational briefing on market research & customer discovery and why its vital to the success of any new venture, discussion of best practices, and short breakout sessions for attendees to apply concepts learned to their own ideas.
October 26, 2018 at from 6:30 PM to 8:30 PM
For more information: Customer Discovery 
Resilient DNA: To what extent can our genetics determine who we are?
Are your genes making you stressed? In this class participants will check themselves for a variant in the serotonin transporter gene (SLC6A4) associated with stress resiliency to explore the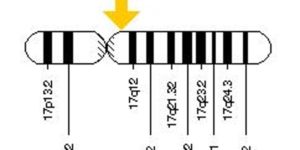 relationship between genes, environment, and personality traits. Class will be appropriate for adults, and advanced high school students.
October 27, 2018 AND November 3rd from 10:00 AM to 2:00 PM (this is a 2-week class, the sessions are not the same)
For more information: Resilient DNA
Influenza: Fact and Fiction
Influenza (the flu) causes misery every season. Why haven't we conquered it yet? Why is it so hard to make a vaccine? How and why is the virus constantly changing? In this class, we'll learn all about the flu and why it's so hard to combat by focusing on the proteins of the flu virus and our immune response. We'll learn how to detect flu proteins in the lab using the ELISA technique. Class will be appropriate for adults, and advanced high school students.                 
November 10, 2018 AND November 17, 2018 from 10:00 AM to 2:00 PM (this is a 2-week class, the sessions are not the same)
For more information: Influenza
CRISPR Gene Editing
Did you miss our big 4-week course on CRISPR in August? No worries, we're diving back into the world of gene editing with a 1-day seminar and lab. We'll talk with a genetic counselor about the use of CRISPR gene editing technology in the treatment of disease-which diseases does it work best for? Which genetic disease communities are most excited about the prospects? Then we'll move into the lab to learn how to use CRISPR to edit DNA sequences to our exact specifications. Class will be appropriate for adults, an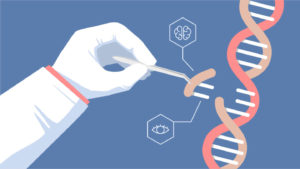 d advanced high school students.
December 1, 2018 from 10:00 AM to 2:00 PM
For more information: CRISPR Seminar
Glow Bugs!
It's glow time! Let's learn about bioluminescence by working with a glowing bacteria. These brilliant "bugs" glow in response to oxygen or movement to create a mesmerizing glow effect. In this hands-on workshop we will get a chance to build and create gadgets (e.g. a tube that pushes oxygen through the bacterial culture with a push of a button) to show off this incredible property! This course is appropriate for students in middle school and up.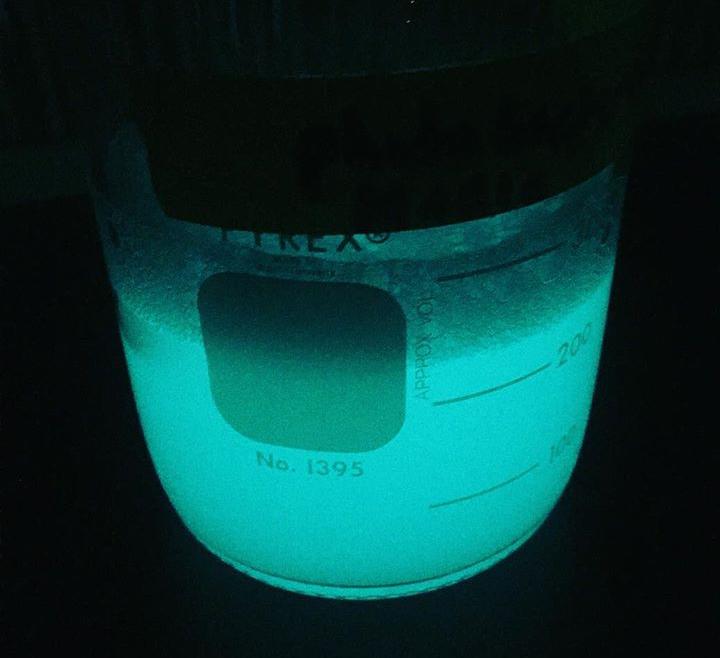 December 8, 2018 from 1-4 PM
For more information: Glow Bugs