At Home Microbiology
Welcome to our at-home microbiology course! This course is designed to teach you about the microbial world living all around us. It was developed collaboratively by scientists and educators at Bioeyes, BUGSS, and the Carnegie Institution for Science, supported by funding from the National Science Foundation.

How can I do the experiments?
Click on each of the days below to open up the information for each day's experiments. Each day will include the full list of supplies plus a copy of the procedure.
How can I get the supplies?
If you have enrolled in the class through BUGSS or Bioeyes, we will be sending you a complete kit with all of the supplies. If you are doing the experiments on your own, you can order p to 3 kits from BUGSS using the form below. If you would like enough materials for a full class of students, please reach out to us at info@bugssonline.org.

Order one or more sets of materials
$30.00 per kit (set of materials), not including 6% sales tax and $12 for shipping. If you order multiple kits, we will ship them together in 1 box for a flat fee of $12. We recommend 1 kit per student.
Can I do the experiments entirely on my own?
Yes. If you would like to purchase the materials to conduct the experiments on your own, a complete list of supplies is available at this link. Information on how to prepare your materials for the experiments will be posted soon.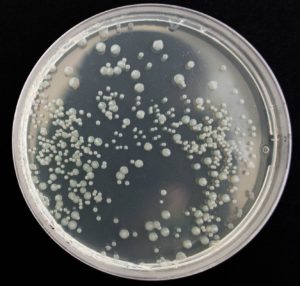 Agar plates (Day 1)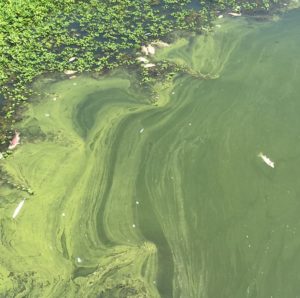 An algae bloom (Day 2)
Winogradsky column (Day 3)
Microscopy (Day 4)
Day 1: Agar Plates and Culturing Microbes
On Day 1, we learn about microbes in our environment, where they live, and how they grow.
Materials for Day 1
agar (2g in 70 ml water; sterilized in a microwaveable bottle)
sugar (2 tsp in 15 ml water; sterilized)
beef bullion (1 cube in 15 ml water; sterilized)
petri dishes (4)
Sterile cotton swabs (4)
parafilm (4 strips)
marker and labels
hand sanitizer (2 squirts)
sterile plastic pasteur pipette
Needed but not included: microwave oven
Day 2: Algae Blooms
In Day 2, we learn about algae, algae blooms, what causes algae blooms, and what we can do to help prevent them.
Materials for Day 2
Algae (Nannochloropsis ~15 ml)
Plastic Containers with lids (3)
Liquid plant fertilizer (2-10 ml)
sterile pasteur pipettes (3)
aluminum foil
marker and labels
Needed but not included: tap water
Day 3: Winogradsky Columns
In Day 3, we learn about the microbiome and the soil microbiome by building a Winogradsky column.
Materials for Day 3
stick of chalk
plastic bottle
marker and labels
water bottle with water
wooden sticks (2)
Tums antacid tablet
paper funnels (2)
mixing container
Sheet of paper
scissors
mixing spoon
Needed but not included: tap water
Needed but not included: one egg
Needed but not included: ~2 cups of dirt or soil
Day 4: Microscopy
In Day 4, we dive into microscopy, and learn how we can use microscopes to observe the microbial world.
Materials for Day 4
clip-on microscope
hand lens
Needed but not included: smartphone
Day 5: Analyzing our Results!
On Day 5, we get to see how things worked and analyze our results!
Materials for Day 5
No new materials are needed today.