Rethinking Meat to Feed 10 billion
Growing meat directly from plants, microbes, and animal cells will allow us to build a food system that is better for human, animal, and planetary health. However, catalyzing this paradigm shift is a vast, multidisciplinary effort that requires scientists and engineers from disciplines ranging from tissue engineering and synthetic biology to computational science and chemical engineering. Join The Good Food Institute's Amy Huang to explore the state of alternative protein research with a focus on illuminating the research white spaces that need to be filled if we're to power a transition away from industrialized animal agriculture.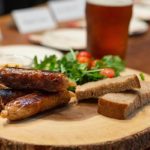 Bio of the speaker: Amy Huang is the University Innovation Manager at The Good Food Institute. At GFI, Amy works with students and faculty around the world to turn universities into hubs for alternative protein research and education. In addition to working with scientists and engineers to address priority white spaces in plant-based and cultivated meat technologies, she focuses on bringing diverse stakeholders together through the formation of student groups, global scientific communities, and interdisciplinary research centers. Amy graduated from Harvard University with an AB in economics and global health.