BUGSS Internships
About BUGSS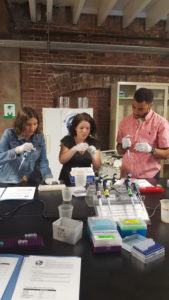 Baltimore Underground Science Space (BUGSS) is a non-profit public laboratory offering classes, seminars, and lab access so that anyone can safely and affordably investigate the living world. We are a community of amateurs, professionals, citizen-scientists, activists, and artists exploring biotechnology through scientific and artistic investigations.
We hope to serve as a space for open dialogue, and "learning through doing" as synthetic biology and new biological technologies become more relevant to our everyday lives. As with any new technology, there are big hopes and big fears, and public debate is often heated and uninformed. By democratizing these technologies, we hope to facilitate more nuanced dialogue and exploration of their incredible potential, as well as their limitations and ethical issues. BUGSS is committed to racial justice, and to equality within and through life sciences, and we invite full participation from people of all backgrounds, we strongly encourage applications from people who are members of historically marginalized communities.


Internship Program
The goal of our internship program is to provide a high-quality scientific lab experience that helps to form the foundation for a career in the life sciences for a diverse group of individuals seeking hands-on work experience in the field. Our 3-week winter internship meets for 40 hours per week, for a 120-hour internship period. Our 14-week spring internship meets for 10 hours per week for a 120-hour internship period (1-2 weeks allotted for a spring break). This is an in-person internship, although some limited remote work will be allowed.
Our 2024 Winter Internship runs from Jan 2-19, 2024 and our 2024 Spring Internship runs from Jan 22-April 26, 2024. Dates have some flexibility and can be adjusted to meet the academic schedules of an intern's academic institution. This is an unpaid internship, but we will work with each intern's college or university to arrange for students to obtain academic credit.
BUGSS interns will work with a mentor who is a professional scientist. The mentor will work closely with each intern to help them to create overall objectives for their internship, to train interns in scientific techniques, and to oversee their work plan.
Position Summary
Interns will conduct scientific research as part of one of two long-term BUGSS projects. While interns will primarily work with the scientific mentor, they will also participate in meetings of the larger project teams and will have the opportunity to engage with several scientists with diverse expertise. Therefore, interns will be able to personalize their learning experience based on their interests and career goals. The two projects are:
The Open Insulin Project
https://bugssonline.org/group-projects/open-insulin/
The price of insulin has doubled between 2012 and 2016 with the few suppliers of insulin raising prices in near-synchrony. The Open Insulin Project is a national nonprofit organization (https://openinsulin.org/) creating an open source (freely available) model for insulin production that centers sustainable, small-scale manufacturing and open-source alternatives to production. We are developing organisms and protocols to produce rapid acting (lispro) and long acting (glargine) insulin. We envision a world in which communities in need have local sources of safe, affordable, high-quality insulin, and where people living with diabetes and their communities can own and govern the organizations that produce the medicine they depend on to survive.
The Inner Harbor Project
https://bugssonline.org/group-projects/barcoding-the-harbor
Barcoding the Harbor is a collaborative, community project between BUGSS, IMET (The Institute of Marine and Environmental Technology) and the National Aquarium. Understanding what calls the Inner Harbor home is an important step in making the Harbor a better place for everybody. We seek to get a deeper sense of the Inner Harbor's health over time by sampling and analyzing it every month. Then, we use the microscope and advanced DNA analysis (metabarcoding) to identify what organisms are present. We can use this data to find ways to affect positive changes in the Harbor and use this natural resource in more sustainable ways.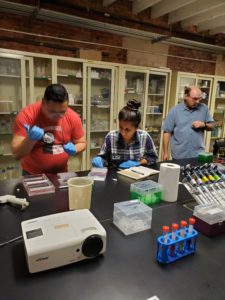 Duties and Responsibilities
Responsibilities will include, but are not limited to:
• Conducting scientific lab research, primarily in the fields of molecular biology, biotechnology, genetics, genomics, and synthetic biology.
• Creating project and experimental plans
• Documenting experimental procedures and results
• Writing research reports, blog posts, and a scientific poster
• Communicating research results orally in formal and informal settings
• Maintaining an orderly lab environment and assisting with the production of lab materials and supplies as needed.
Required Skills and Abilities
• A strong interest in scientific research and a career in the life sciences
• Excellent analytical research skills, strong written and oral communications skills, and good attention to detail.
• Ability to manage time well
• Flexibility and willingness to adapt
• Enthusiasm for working in a team environment with people of all backgrounds
• Commitment to improvement and to responding productively to feedback
• Currently pursuing an undergraduate degree (AA, AAS, BA, BS) focused on any area of the biological or life sciences
If you're excited about this internship but your experience does not align perfectly with every qualification in this description, we encourage you to apply anyway. You may be just the right candidate!

BUGSS does not discriminate based on race, color, religion, sex, age, national origin, veteran status, marital status, sexual orientation, disability or any other category prohibited by local, state or federal law.
Reach out with questions to Lisa Scheifele, Executive Director at lscheifele@bugssonline.org