Go with your guts, and the billions of bacteria that are in them!
Test your own personal microbiome (or your pet's) – 
In this class you will be able to investigate your own gut microbiome, or the microbes of your pets, roommates, or family members. Our microbiome (the microbes living in and on our bodies) are believed to have profound effects on our immune systems, health, and susceptibility to disease. Find out what you can learn about your own health and wellness. In this class you'll perform lab work to isolate the microbes present, sequence and identify those microbes, and then learn what the results mean for YOU personally.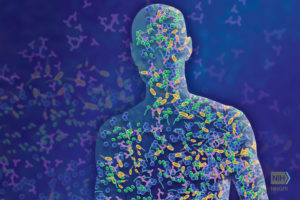 In this 3 Saturday class you'll be able to design your own experiment to compare any two samples! What samples do you want to compare? How many gut microbes you share with your dog? What about with another human? Does your gut microbiome change with your diet? What if you ate pizza for two weeks straight? (We do not endorse pizza as a sole source of nutrition!)
Isolate and process DNA from your samples. Use the polymerase chain reaction (PCR) to amplify the DNA of the microbes. Determine the different species of in your two samples. For those interested in programming and computational biology, the entire class will learn how to analyze the sequencing data and perform comparative analysis to uncover further information (don't worry, this class is appropriate for beginners!).
Everyone gets two biological samples to test, here are some experimental suggestions. If none of these interest you, just ask us if you have another idea.
Some experimental suggestions:
1)      Test your microbiome vs. your roommate (or friend, or family member)'s microbiome *
2)      Test your microbiome vs. your pet **
3)      Test your microbiome before and after a lifestyle change such as a change in diet, exercise or sleep habits
4)      Test your pet microbiome before and after a change in your pet's lifestyle
* Mandatory: you must get their consent
**Well, at least ask?